Tolkien: 'Why I wrote The Hobbit'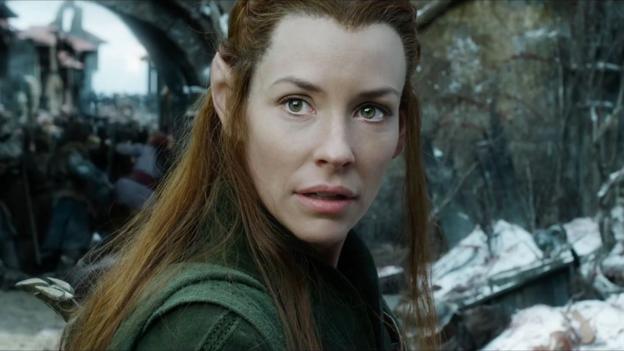 In a 1968 interview, the author describes the moment he wrote The Hobbit's first line. BBC Culture pits it against The Hobbit's new trailer in our round up of the week's viral hits, alongside their archive predecessors.
The Hobbit: The Battle of the Five Armies v 1968 interview with JRR Tolkien
Evangeline Lilly, Cate Blanchett and Orlando Bloom come together as a group of elves whose beauty is matched only by the landscape of Middle Earth in the new Hobbit trailer. Unveiled at Comic-Con, the clip shows Martin Freeman's Bilbo Baggins looking baffled, Ian McKellen's Gandalf looking resolute and Bloom looking battle-ready: he'll need to be, what with those five armies on the march. The final instalment of director Peter Jackson's Tolkien franchise is out in December.
"In a hole in the ground there lived a Hobbit." JRR Tolkien describes the moment he was inspired to write the opening line of his Middle Earth saga in this 1968 interview, with footage showing the author visiting his former Oxford college, sipping from a pint of beer and expressing his love of trees. It also serves as a trailer of sorts, as a woman outlines the plot of the 1937 book – albeit in a more rudimentary way than this week's Hollywood extravaganza. As she says: "Well it's a very long story and it's rather difficult to explain it, but I suppose it all begins when Bilbo finds a magic ring … They have lots of adventures, and they make friends with a lot of very interesting and influential elves."
Fifty Shades of Grey trailer v Still Life by Sam Taylor-Wood
"I exercise control in all things, Miss Steel." Christian Grey shares his tips on discipline with us in the trailer for Fifty Shades of Grey, which is heavy on tycoon accessories and lingering glances. Beyonce gasps out her a capella version of Crazy in Love over images of a helicopter, a glider plane, a grand piano – and a secret fetish room – in the promotional clip for the movie directed by Sam Taylor-Johnson (Nowhere Boy). An adaptation of the best-selling novel by EL James, the film stars Jamie Dornan and Dakota Johnson and is due out in February 2015.
Long before she was getting viewers hot under the collar, Taylor-Johnson – who was known as Sam Taylor-Wood before she married Aaron Johnson – was making video art. Nominated for the Turner Prize in 1998, she filmed David Beckham sleeping for a National Portrait Gallery project and created a series called Crying Men, showing actors like Robin Williams, Sean Penn and Laurence Fishburne crying. This piece, called Still Life, shows a bowl of fruit decaying at an accelerated pace; the mould gathers like billowing clouds as the fruit begins to collapse.
Out of the Blue's Shakira medley v The Music Man barbershop scene
An a capella group made up of Oxford students caught the eye of Shakira this week after they recorded a version of her hit song Hips Don't Lie for charity. In the clip – which prompted the Colombian singer to tweet "Hey @ooboxford, we LOVE your a capella Shak medley!" – members of Out of the Blue gyrate and bounce jauntily in suits and ties against a backdrop of the university town's dreaming spires. Although at times the ensemble appears to be jostling rather than dancing, there are set-pieces worthy of Glee: several of the group pop out of the bushes in the garden of a college, before crawling across its pristine lawn.
"Singing is just sustained talking," quips Harold Hill (Robert Preston) in this clip from the 1962 movie The Music Man. The con man – who poses as a band leader in an Iowan town – gets a group of bickering school board members to croon the word 'ice cream' before breaking into a performance of Sincere as fireworks explode behind them. The singers are in fact The Buffalo Bills, considered one of the greatest barbershop quartets of all time: the film won an Academy Award for best musical score, and was selected for preservation in the US National Film Registry in 2005.
Sadie doesn't want her baby brother to grow up v 1924 Peter Pan film
A tantrum of existential angst has become a viral hit this week, as five-year-old Sadie bemoans the passing of the years. "I don't want him to grow up!" she screams about her younger brother, who sits smiling by her side. "And I don't want to die when I'm a hundred!" she sobs, choking on her tears. This isn't the first time the girl from Arizona has been emotional over ageing: her father Ryan Miller told
Time
: "She's cried about not wanting to get older herself in the past, but this was the first time she was upset about her brother". The clip ends with Sadie crying out "I want him to stay little!" before becoming hysterical over the relentless march of time.
Reassuring words from 'the boy who wouldn't grow up' in this clip from a 1924 silent film. "You just think lovely, wonderful thoughts and they lift you up in the air," says Peter Pan, played by Betty Bronson, as he teaches the Darling children how to fly. Herbert Brenon's Peter Pan was the first film adaptation of JM Barrie's play, and stuck closely to the stage version. Most copies of the film were destroyed over the years, but in 1990 it was restored and given a new score.
If you would like to comment on this story or anything else you have seen