Gun attack on French magazine Charlie Hebdo kills 11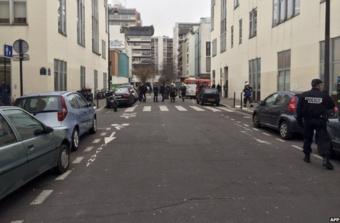 Gunmen have attacked the Paris office of French satirical magazine Charlie Hebdo, killing 11 people and injuring 10, French officials say.
Witnesses spoke of sustained gunfire at the office as the attackers opened fire with assault rifles before escaping.
Police have launched a major operation in the Paris area in their hunt for the attackers.
Charlie's latest tweet was a cartoon of the Islamic State militant group leader, Abu Bakr al-Baghdadi.
The satirical weekly has courted controversy in the past with its irreverent take on news and current affairs.
The magazine was fire-bombed in November 2011 a day after it carried a caricature of the Prophet Muhammad.
President Francois Hollande is at the scene and is planning to hold an emergency cabinet meeting.
'Black-hooded men'
Two of those killed are police officers, France's AFP news agency reports, and five of those wounded are critically injured.
An eyewitness, Benoit Bringer, told French TV channel Itele: "Two black-hooded men entered the building with Kalashnikovs.
"A few minutes later we heard lots of shots."
The men were then seen fleeing the building.
"It's carnage," French police official Luc Poignant told another French channel, BFMTV.
Police have warned French media to be on alert and pay attention to security following the attack.